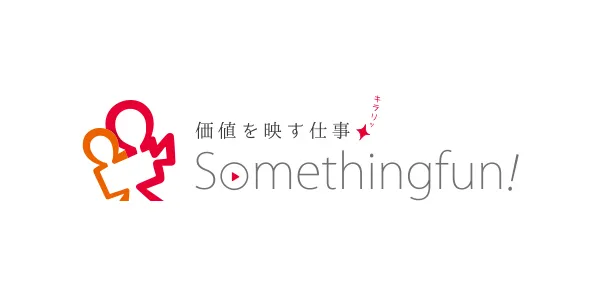 Click here for exhibit details.
Somethingfun! Inc.

Something Fun, Inc. provides video marketing utilizing the DOOONUT video delivery analysis interactive tool, the video creator platform SAMJOB, and LIVER MARKETING.
We are a Video DX® proposal company with a track record of over 7,000 video productions per year and planning and proposal of video utilization for our clients. Our staff, with a wealth of experience and technical capabilities, provides original video content tailored to our clients' needs, and we focus on branding and marketing, not just video production.
We can provide services nationwide from our three locations in Tokyo, Osaka, and Nagoya.
SERVICE
Video DX Proposal Company with an Annual Record of Over 7,000 Video Productions! We excel in four major areas within the realm of visual communication. Introducing Somethingfun Co., Ltd.!
Somethingfun Co., Ltd. offers a range of visual communication solutions through two core business pillars: 'Video DX®' for empowering enterprises with video-driven DX solutions and 'Creative Agency' to maximize the potential of creators. Our mission is to 'highlight your value.'
In our 'Video DX®' division, our experienced team of directors delivers tailor-made video productions, providing support for approximately 7,000 video productions and Video DX® initiatives annually. We cater not only to government organizations and major corporations but also assist startups. Additionally, we offer end-to-end support for video production targeting inbound and global expansion.
By combining our Video Strategy Team with our proprietary video delivery platform 'DOOONUT,' we enhance the effectiveness of Video DX®. DOOONUT is an all-in-one video SaaS solution offering unlimited access to video streaming, analytics, and interactive video creation, streamlining both internal and external Video DX® efforts.
Unlock the full potential of your untapped video assets with our versatile player, 'DOOONUT'!
Our 'Creative Agency' division, known as 'Somejob', boasts a roster of over 7,000 registered video creators. With stringent quality control and a focus on meeting customer needs, we provide talent outsourcing services tailored to your video production requirements. If you're interested in insourcing video production, achieving high cost-effectiveness, or pursuing large-scale video production, please don't hesitate to reach out to 'Somejob'!
Furthermore, we have 'Somefun,' a management agency specializing in Live Marketing®. 'Somefun' offers innovative marketing strategies, including PR through live streaming and live commerce, designed to leverage the power of influencers and engage audiences in exciting new ways.
With these two core pillars and four specialized teams, Somethingfun Co., Ltd. is committed to advancing the field of visual communication.
Contact

Manager

Minami Takahashi

Mail

dooonut@somethingfun.co.jp