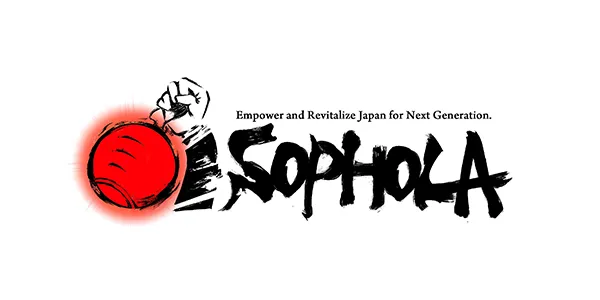 Click here for exhibit details.
SOPHOLA Inc

In major metropolitan areas such as Tokyo, Nagoya, and Osaka, where the issues have not yet deepened, our company took early action as a private enterprise to address Japan's societal challenges, including depopulation in rural areas, aging artisans, and promoting attractiveness overseas. We were founded in April 2018 and began operations in May of the same year with the aim of creating effective business solutions for these challenges.

Our core business focuses on consulting and outsourcing services utilizing cutting-edge marketing technology from abroad. We have embarked on developing businesses that address these three significant social issues in Japan.
Links
SERVICE
AdScale Entreprise/AdScale E-Commerce/Lunio/m19/Attention Insight/MerchantSpring
-Background-

In the realm of overseas markets, AI and other technologies have surged far ahead compared to Japan. Countries like the United States, China, the United Kingdom, Canada, and Israel lead the top five in AI technology development, while Japan currently ranks 16th. The landscape of Japan's digital marketing sector presents challenges due to factors such as language barriers and cultural differences, making it difficult for foreign tech startups with exceptional AI technology to establish a presence in Japan. Consequently, there exists a time lag of 2 to 3 years for these countries' technologies to permeate the Japanese market.

-WHO WE ARE-

SOPHOLA is dedicated to aiding Japanese enterprises in swiftly accessing cutting-edge AI technology worldwide, enhancing their competitive edge in digital marketing, and contributing to the growth of Japan's industries and economy. We are an innovation partner who leveragse technology to contribute to the success of our clients' businesses.

-WHY CHOOSE US-
Reason 1 | Innovative SaaS Solutions : We specialize in providing SaaS solutions focused on unique and groundbreaking AI and other technologies not yet available in the domestic market.

Reason 2 | Partnerships: We have exclusive and strategic partnership agreements with all leading foreign tech companies. Serving as their local offices, we possess an in-depth understanding of their products and services.

Reason 3 | Uniqueness: Our solutions offer functionalities unparalleled by domestic counterparts, enabling the execution of initiatives and data analysis that would otherwise be impossible. This translates to significant improvements in results and efficiency.

-OUR OFFERINGS-

AdScale Enterprise (From Israel): A performance-boosting automated advertising optimization solution, ideal for companies facing challenges on major ad platforms like Google. Trusted by over 100 businesses, including advertising agencies, prominent financial institutions, and e-commerce sites, with a track record of up to +500% in ad spend and -60% in average customer acquisition cost within 3 months of implementation.

AdScale E-Commerce (From Israel): An all-in-one marketing solution tailored for e-commerce, compatible with platforms like Shopify and WooCommerce. Alongside advertising features, it offers robust BI and CRM functionalities. With automated ad configuration and data integration, it supports cookieless environments. A recommended solution even for those new to advertising, offering a 14-day free trial.

Lunio (From the UK): An unparalleled anti-click fraud solution focused on major ad platforms like Google, YouTube, Facebook, Instagram, Twitter, LinkedIn, and TikTok. Leveraging over 250 data signals, it employs unique algorithms to analyze and block fraudulent clicks. Its standout feature is the only cross-platform solution for automated application across various media.

m19 (From France): A top-tier all-in-one Amazon marketing solution with unprecedented automated ad optimization. It introduces a groundbreaking "automated bidding adjustment considering organic search results" feature. Additionally, it excels in data analysis, covering keywords, products, inventory, and profit/loss, giving it a distinct advantage.

- Attention Insight (From Lithuania): A pre-launch creative analysis solution enabling design evaluation before release. Accessible from as low as ¥6,980 per month and employed by 3,000+ companies worldwide. Endorsed by the Massachusetts Institute of Technology (MIT) for its 90-94% accuracy in replicating human vision, it facilitates design validation for both online and offline contexts.

MerchantSpring (From Australia): A comprehensive marketplace management solution for centralized control over multiple e-commerce marketplaces and accounts. Trusted by 13,000+ companies globally, it empowers sellers and agencies to manage and visualize various aspects like e-commerce performance, customer reviews, advertising, and fulfillment status. Custom reporting capabilities lead to substantial time savings.

At SOPHOLA, we connect Japanese businesses with the forefront of global AI technology, empowering them to excel in the digital marketing arena and contribute to Japan's industrial advancement and economic growth.
Contact

Manager

Masaki Iino

Mail

info@sophola.jp